September 25th, 2012 by ariana
Finally finished!
The paint color was there before we moved in, so we decided to go with it. The fuchsia paper balls were actually left over from the bridal party I threw my friend Alexis – Jeff dumped them in the Nursery to get them out of the way and as soon as I saw them in there I kind of fell in love with the color combo!
There are two cribs in here, one is up against the wall to the right across the chair from the crib you can see. It's a small space, but it's soothing and girly and I kind of love it!
I got an AWESOME deal on the Jenny Lind cribs when the daily price was low on Overstock one day when I checked and then I had some sort of coupon that basically made it 2 cribs for $300, which for a decent quality crib I thought was a steal.
The grey chevron sheets are from pottery barn kids, only $19 dollars or something VERY reasonable (and organic to boot!).  Unfortunately as reasonable as the sheets were, the 96″ ruffle curtain panels and bed skirts were NOT – $89 each for those crib skirts and each curtain panel – luckily we could get away with only one panel per window!
The rose garlands over the curtains were actually one VERY long one we cut that we got from Shindigz of all places because I spotted them when buying copious amounts of decorations for Jasper's pirate pool party!
The glider was the same one I had from Jasper, I had scored it at a consignment sale for something ridiculously cheap like $125 – not bad considering it's the deluxe model that leans all the way back.
We also are reusing the giant Ikea dresser that we used as a dresser/changing table in Jasper's nursery, so all in all I THINK we did pretty well considering how expensive things can get with twiglets on the way. Now all it lacks is… the babies!
Well, that's not entirely true – we still need to order some wall decoration/art – yes ironically I have not been able to make a decision on that yet. I KNOW I want Organic Bloom frames, and I mocked this up with my new app:
The baby is one of my past clients, I just wanted to get a sense of which frame style, size and colors work in the room. What do you think?
Then, I JUST came across this Etsy seller PaperNut and fell instantly in love with her print of a mommy mermaid and two baby mermaids!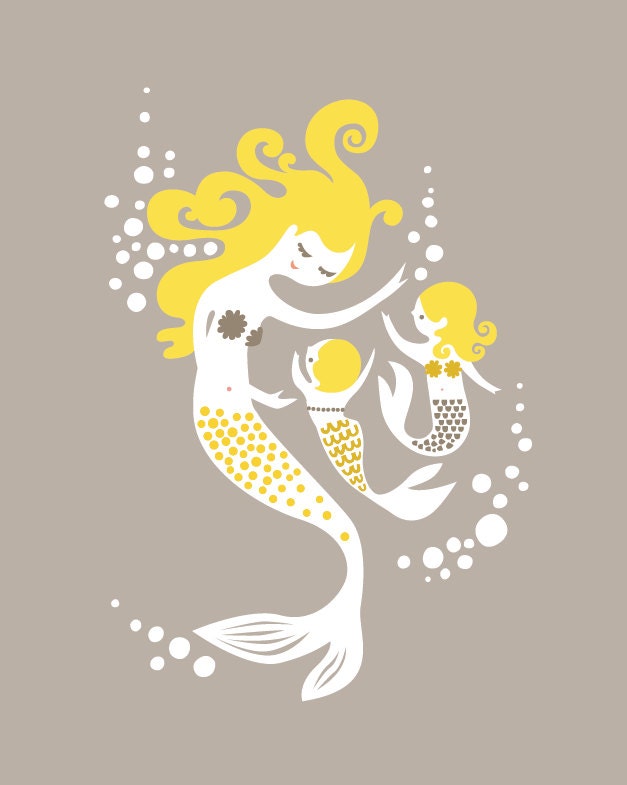 Isn't that the cutest? I love the grey, but I think the grey background only works with blondes, and blonde I am NOT (nor do I think my babies will be!) so I contacted her and she is going to do a custom listing with this print but with two girls instead of one: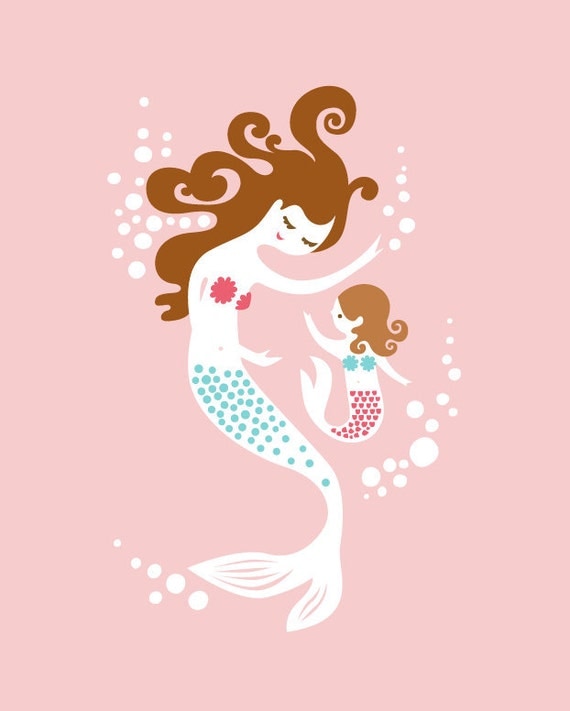 Again, I couldn't choose size and color or Organic Bloom frame to put it in until I put it in my app – IMMEDIATELY I realized that the wavy (water-like!) shape of the Jessie frame was perfect:
It won't go in that spot, but I can see that I love it with the rest of the room so It's on order!
So, that's the girls' nursery – we actually finished it and I blogged about it before their arrival – feeling pretty good about that at the moment given my recent track record :)
In other news, I saw the MFM for the last time today – girls are only 7% apart, little baby is 5.14 and big baby is 6.7 – so fingers crossed the OB on Thursday green lights an attempt at a vaginal delivery which is looking more and more like it will be an induction.  I've been joking that I must have the world's most rockin' womb because my kids do NOT want to leave (if you haven't been reading that long, Jasper was 41weeks 4 days!)
The more unsettling news is that after my visit to the hematologist, my "looking great" 130 platelet count has now dropped to 110 – a mere 10 away from the "you might not be able to have an epidural" danger zone.
Fingers crossed!
You might also like